THE

MATRICIDE

at

CP

Projects Space :

SEPT 20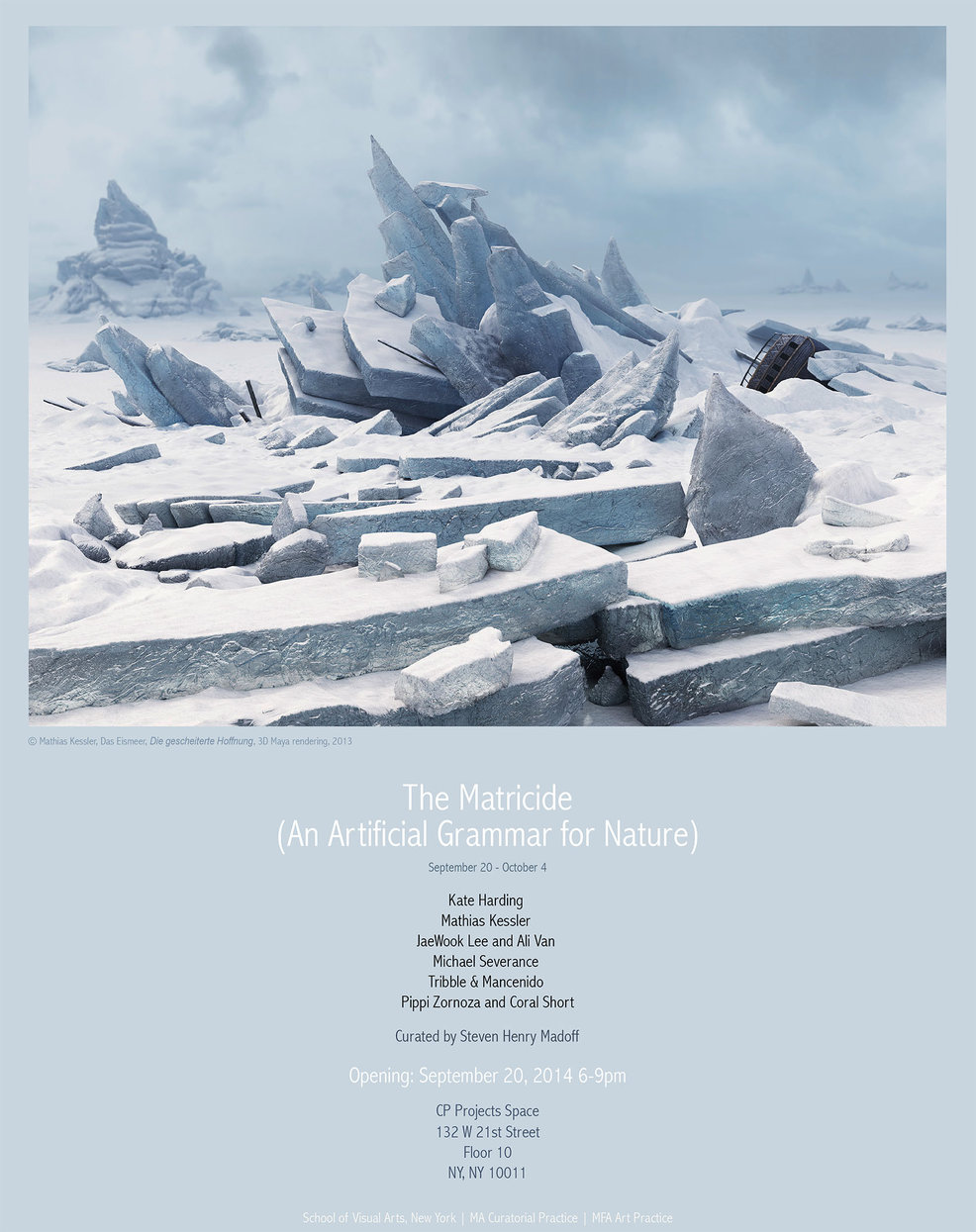 SUBLET at an AirBNB Apartment :

JUL 22

-23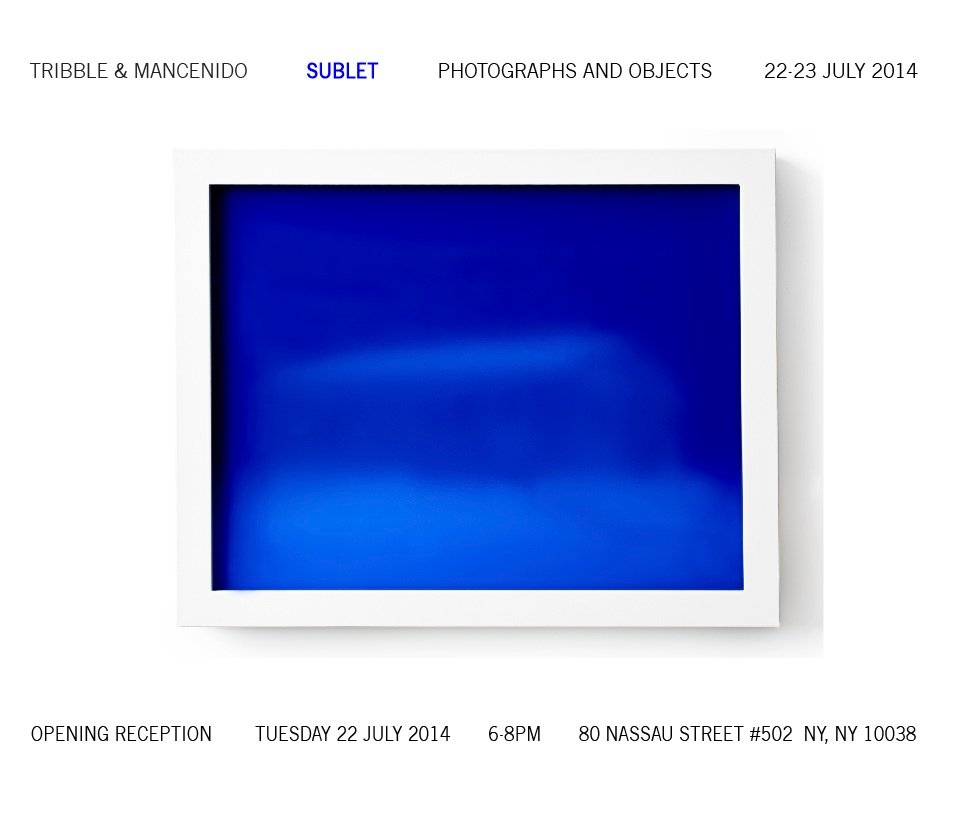 Tribble & Mancenido
are showing their new series
SUBLET
at their current AirBNB apartment.
COMMUNITY

BOARD

at Glasshouse Brooklyn :

JUL 18

-21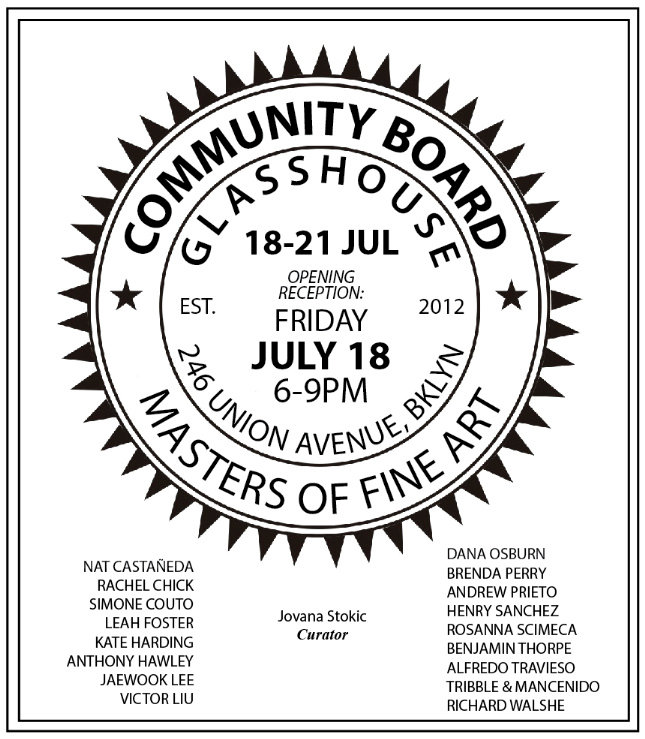 Tribble & Mancenido
are excited to show new work in Community Board at Glasshouse in Brooklyn.
HURRY UP &

WAIT

at KunstRAI Art Fair in Amsterdam :

JUN 4

-9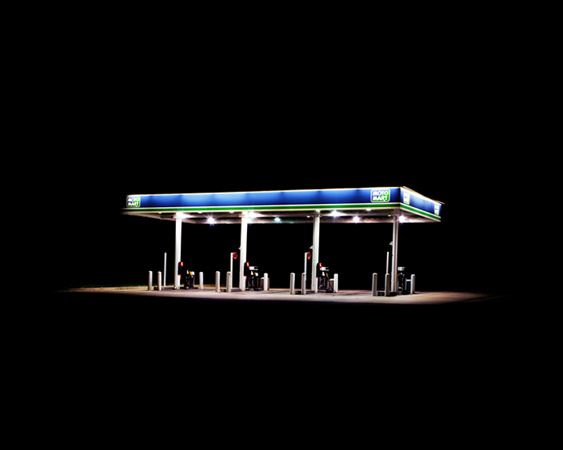 Moto Mart, Perryville,
MO 2008
Highlights from
Tribble & Mancenido's
esteemed series
Hurry Up & Wait
will be shown at the KunstRAI Art Fair in Amsterdam.
NEW

WORK

at

AIPAD

Photography Show :

ARP 10

-13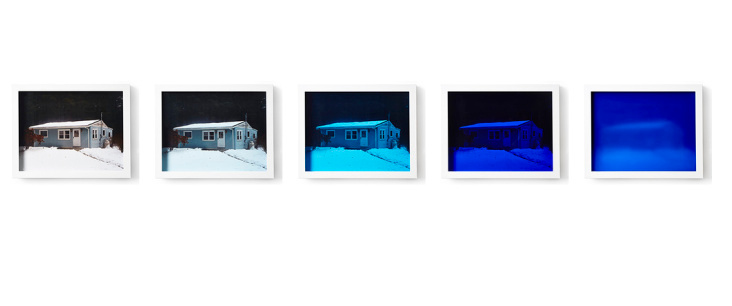 Tribble & Mancenido
will be featuring new work at
AIPAD
this year. Be sure to check it out at Sasha Wolf Gallery's booth #207.
PYRAMID

SCHEME

: SATURDAY,

FEB 1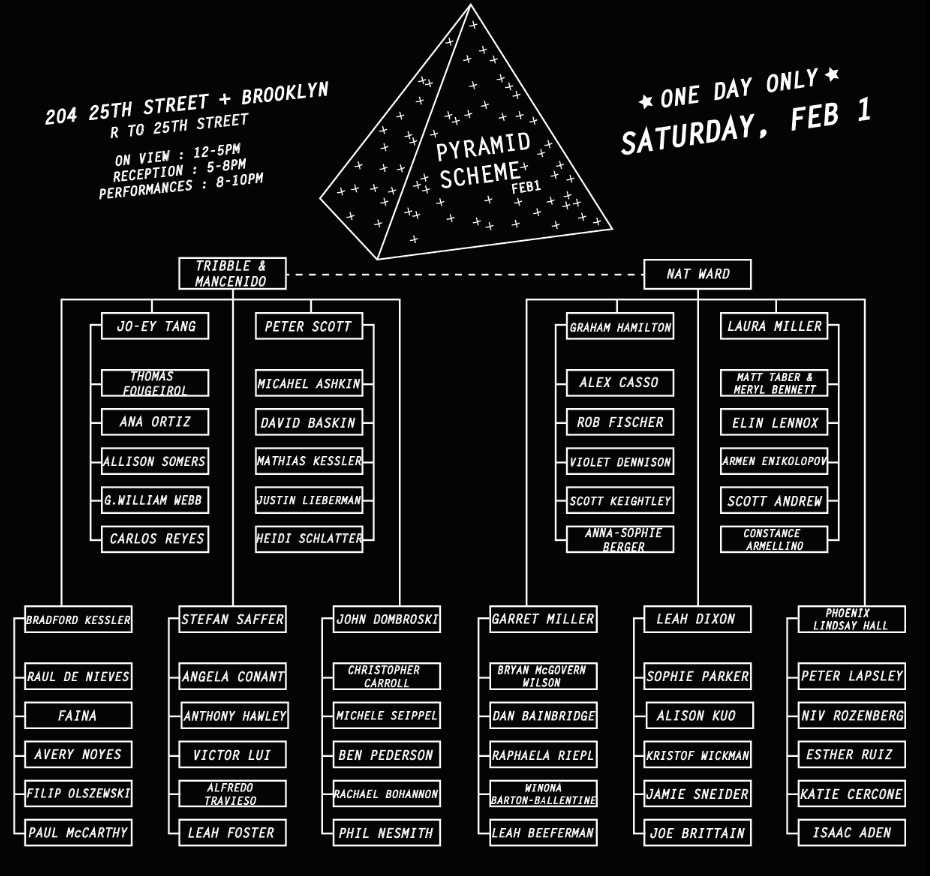 Tribble & Mancenido
are thrilled to co-host this one day only, pop-up exhibition alongside friend/artist Nat Ward.
Pyramid schemes are an unsustainable business model, tarnishing reputations in industries from finance, to art, to higher education. This unique pop-up exhibition uses the lucrative socially-networked mechanism of a pyramid scheme to generate a group exhibition surveying the work of connected artists. The pyramid scheme will not only reveal patterns and themes within contemporary art, but the social support structures which enable its creation.
In the traditional execution of a pyramid scheme, close networks of professional associates are betrayed by those operating the pyramid from the top. In an unbalanced top-heavy world, resources are scraped from those on lower rungs to support the excesses of those on top. By establishing a culturally inflected pyramid scheme, a new curatorial manifesto emerges. Art making, unlike other forms of capital production, is a generative cultural force. By creating and bringing together new artworks, a surplus value is created. This surplus is real, and vast, however unwieldy on the axis of time. By surveying an inspiring collection of contemporary artwork for one-night-only, we get a brief glimpse of concentrated artistic institution-scaled wealth, beyond the grasp of any one individual.
LOST

ONES

: OPENING

JAN22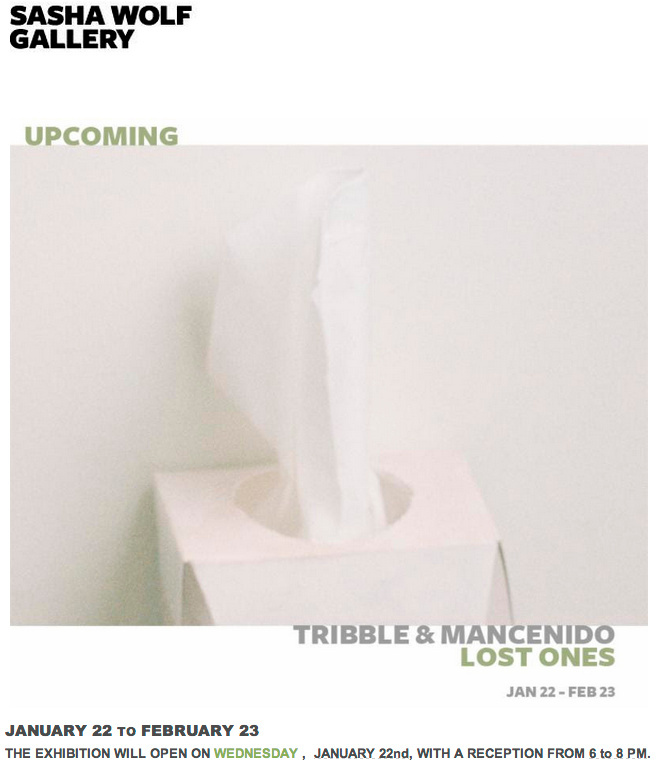 Tribble & Mancenido
are excited to have their second solo exhibition at Sasha Wolf Gallery.
Sasha Wolf Gallery
70 Orchard
Opening Reception :
Wednesday, January 22, 6-8pm
NEW

DOCUMENTARY OPENING TONIGHT

: AMSTERDAM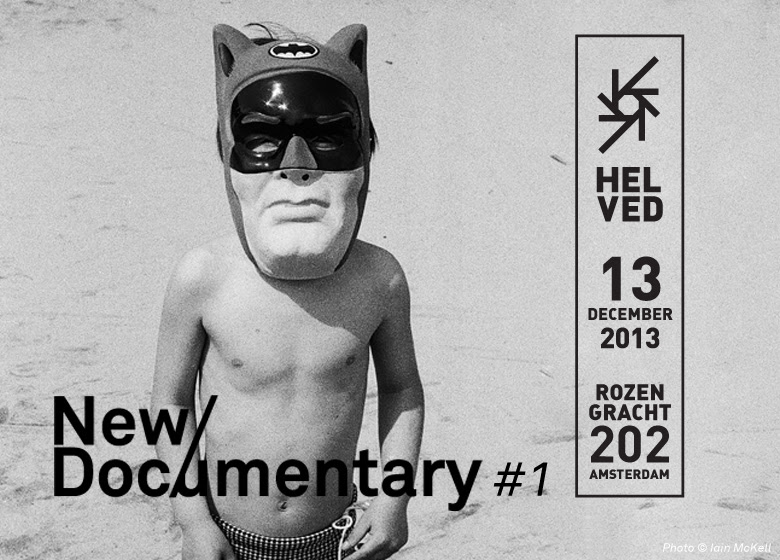 If you're in Amsterdam, go check out this group show that T&M are in!
SOCIAL

PHOTOGRAPHY III

: CARRIAGE

TRADE

: 12DEC-14JAN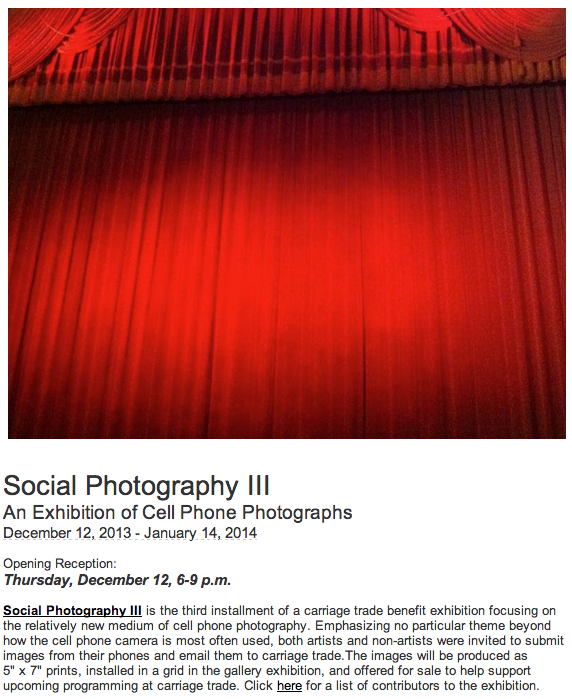 Go check out this benefit at artist Peter Scott's Carriage Trade. T&M have an image alongside some heavy hitters like Tracey Emin, Dan Graham, Olaf Breuning, Mariah Robertson, Tim Rollins, and more!
THE

NEW AMERICANA

: 9OCT-30NOV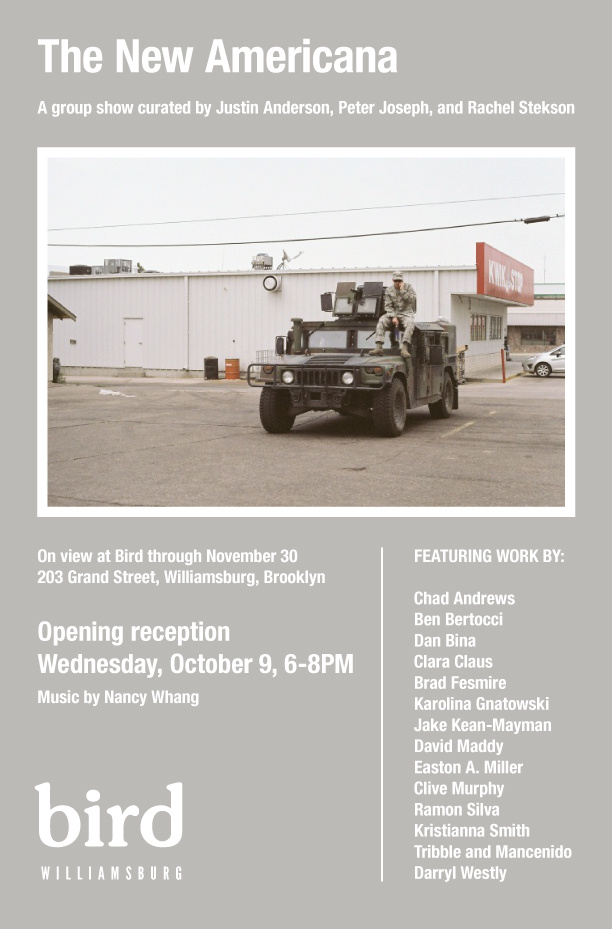 BOMBLOG Interview with Ashley McNelis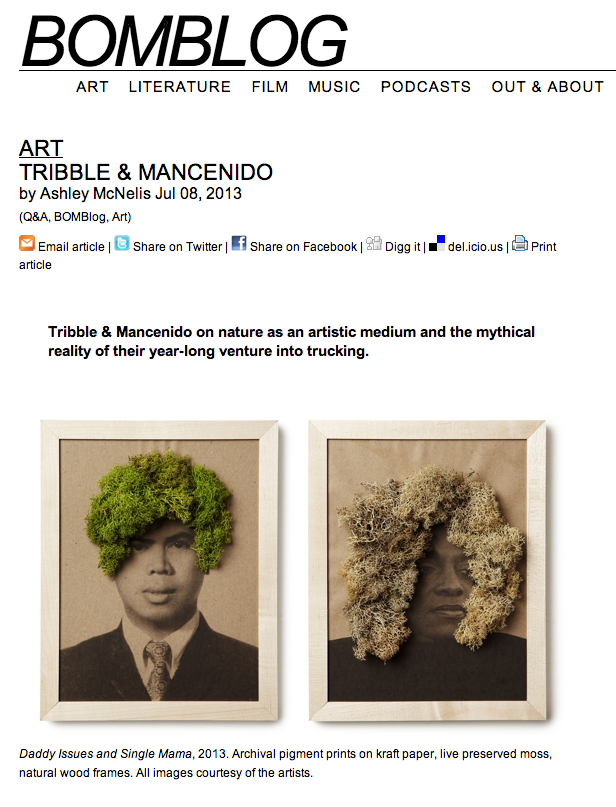 Check out the
BOMBLOG
Interview with
Tribble & Mancenido
and Ashley McNelis
here
, from their lives as truckers to working with live moss, and their steady intention of changing our perception.
ECSTASY/APOCALYPSE : 10JULY-3AUG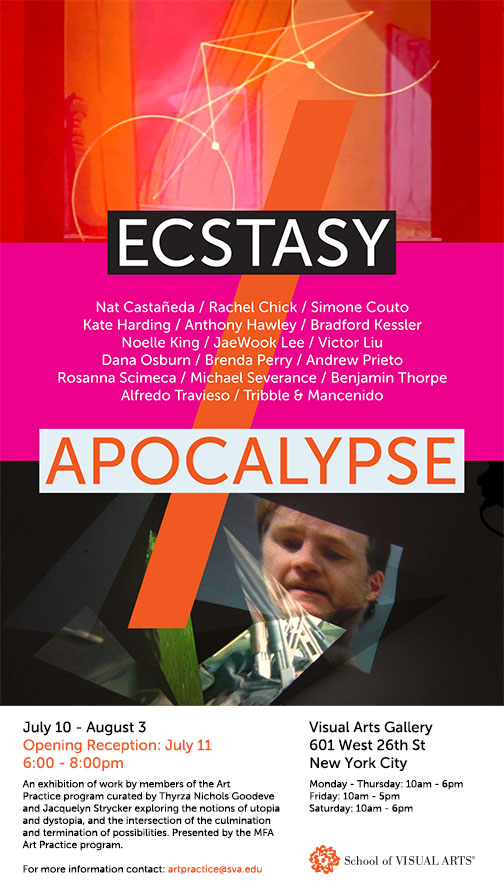 Tribble & Mancenido
are thrilled to be part of this group show where they will be featuring their moss portraits.
CURRENT

PRACTICE

: 3-18JULY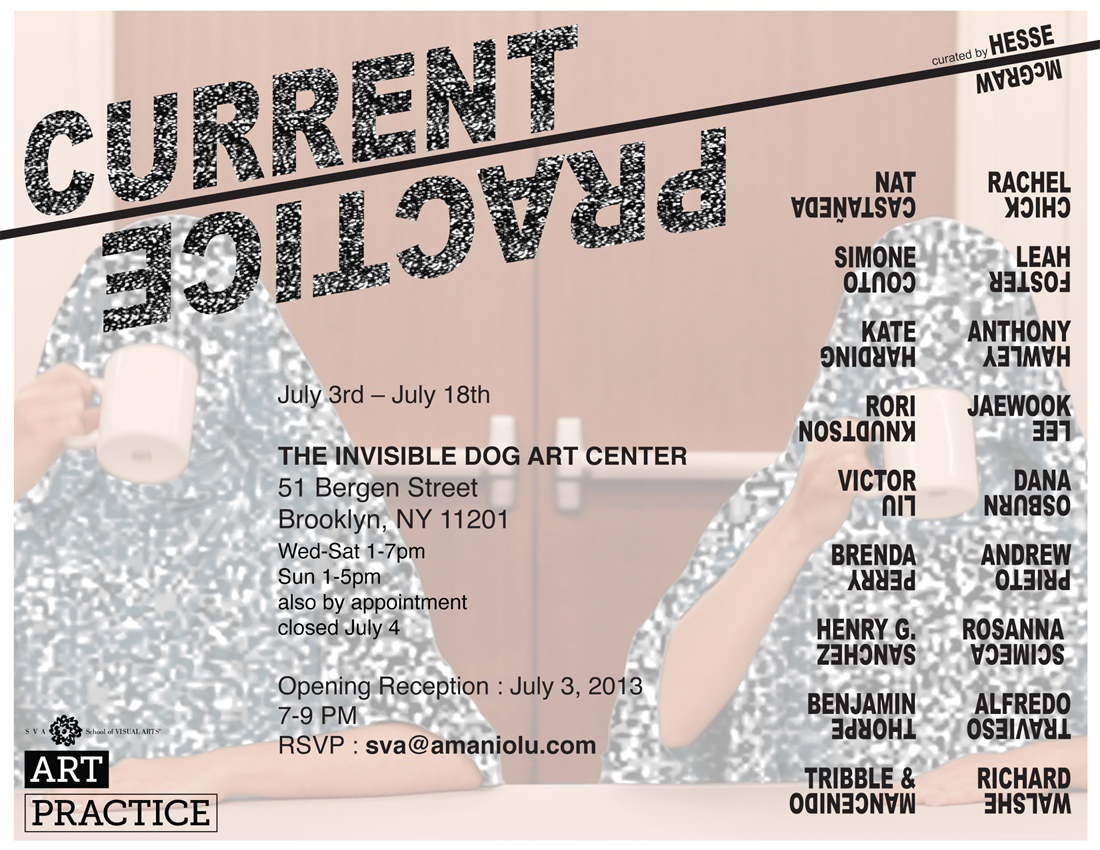 BUSHWICK

OPEN STUDIOS

: JUNE 1&2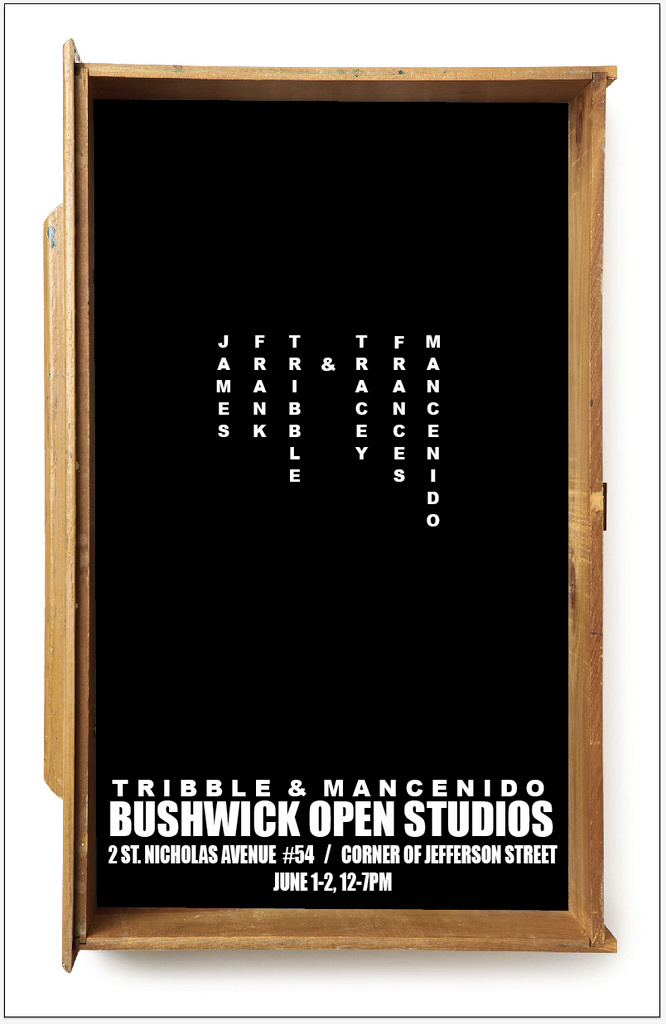 Come out to see
Tribble & Mancenido's
new work. Also, their artist collective will be showing in the same building below.
FASTER

FUTURE

, EVER

AFTER

at

BUSHWICK OPEN STUDIOS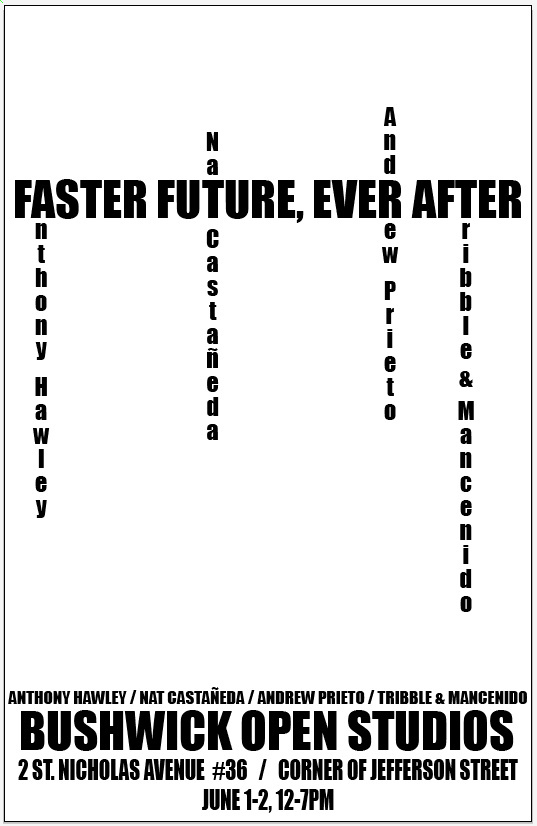 text+message

OPENING TONIGHT IN LIC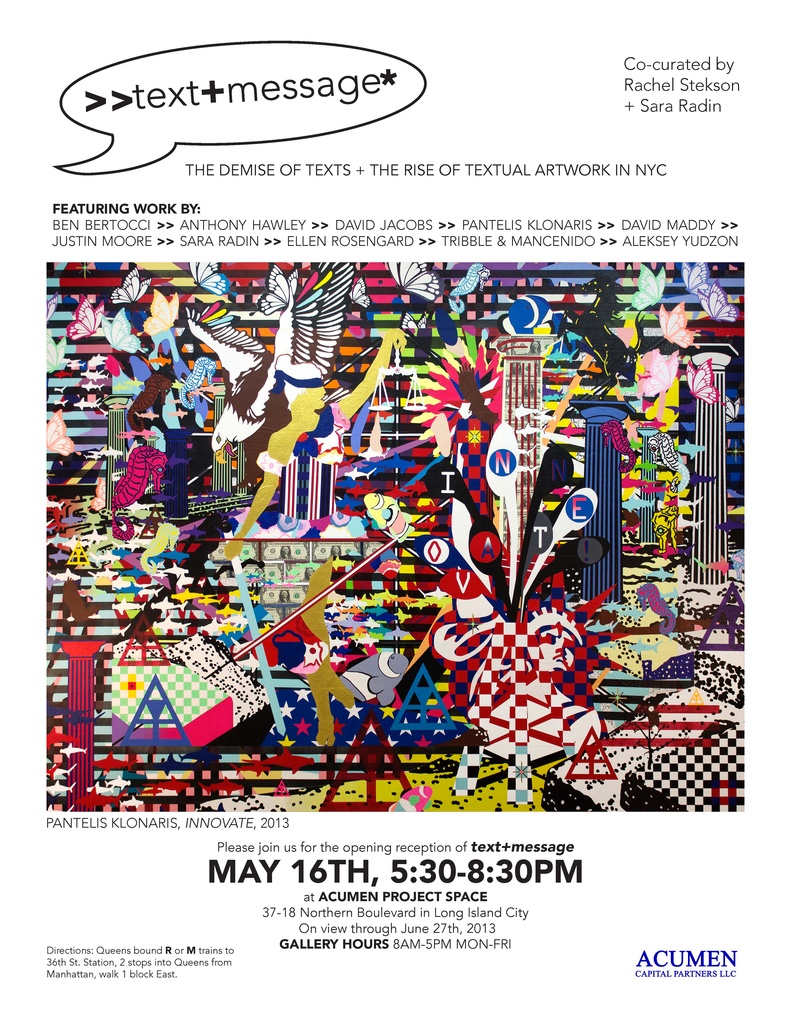 Tribble & Mancenido
are thrilled to be part of this group show co-curated by Rachel Stekson and Sara Radin. Come out, drink, see some incredible text-based work, and say hi!
Acumen Project Space
37-18 Northern Boulevard
Long Island City
thru 27JUNE13
THE

MOTORWAY SERVICE AT BANK STREET ARTS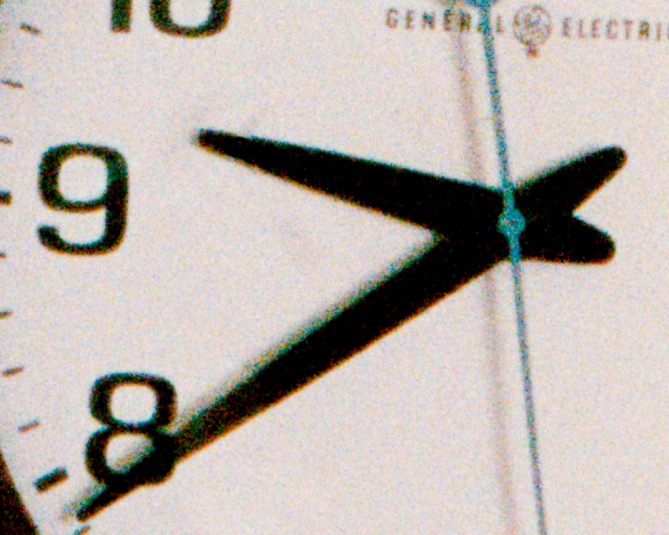 Time, 2012
Tribble & Mancenido
have 10 prints up at Bank Street Art's current group show
The Motorway Service Station as a Destination in its Own Right
in Sheffield, UK.
The Motorway Service
Bank Street Arts
Sheffield, UK
14MAY13 – 29JUNE13
HARLEM

POSTCARDS TENTH ANNIVERSARY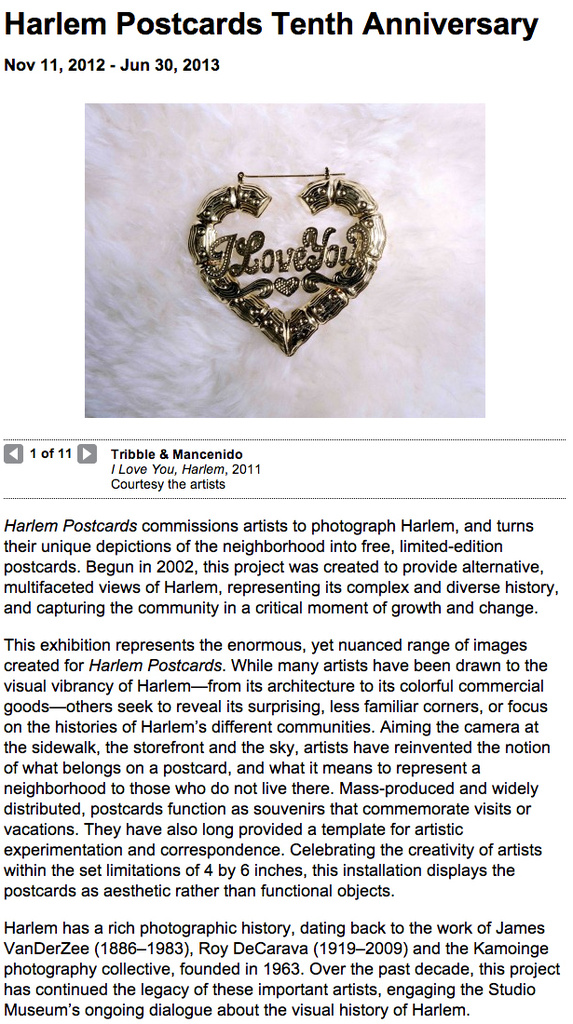 Tribble & Mancenido
were commissioned to create an image for The Studio Museum of Harlem's ongoing Harlem Postcards project in 2011. Their commissioned image is currently on view at The Studio Museum's Harlem Postcards Tenth Anniversary exhibition.
The Studio Museum of Harlem
11NOV12 – 30JUN13
GARAGISME

MAGAZINE

- Numéro 2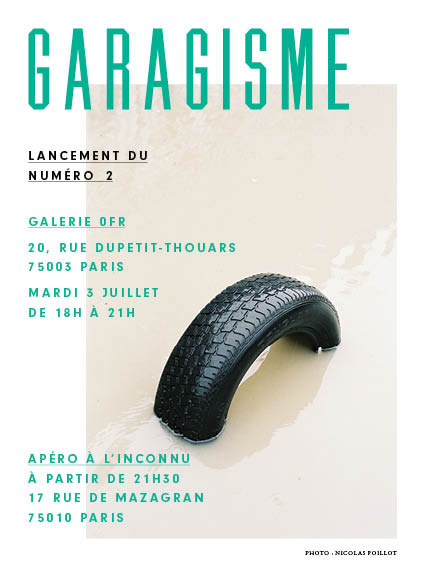 If you're in Paris, drop by for the launch of Garagisme's second issue.
Tribble & Mancenido
have work in this excellent car culture magazine, so pick up a copy too.
TRIBBLE &

MANCENIDO

at

GRID

Photography Biennial in Amsterdam

Tribble & Mancenido
will have images up from their long collaboration with
CODE
magazine, in their curated exhibition
Men's Cult
at
GRID
.
16May-1July
Cruqiusweg 67, east of Amsterdam
TRIBBLE &

MANCENIDO

at

AIPAD
Tribble & Mancenido
will have work up with
Sasha Wolf Gallery
at this year's Aipad Photography Show. Come stop by!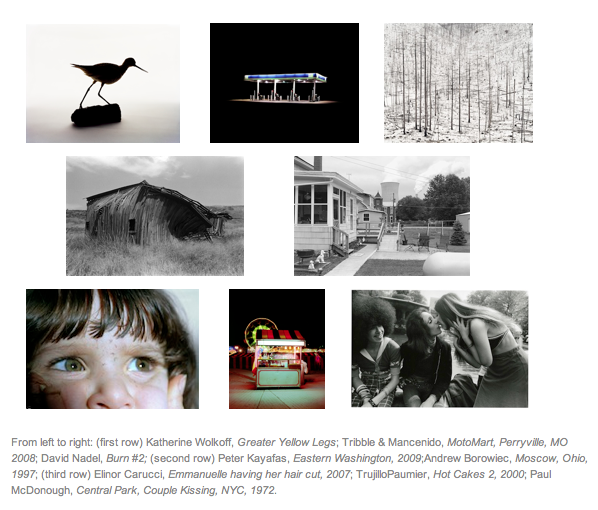 AIPAD
Park Avenue Armory
29MAR-1APR
NJ

ARTS COUNCIL 2012 GRANT RECIPIENTS

Tribble & Mancenido
have been awarded an artist grant from the
NJ
Arts Council.
CHOROGRAPHY :

IN SEARCH OF THE NEW AMERICAN LANDSCAPE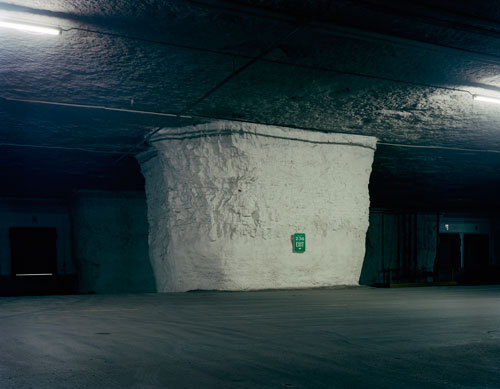 Industrial Park Cave Route, Kansas City,
KS 2008
Chorography : In Search of the New American Landscape, curated by Sam Barzilay, is currenty on view at the Athens Photo Festival in Greece. Tribble & Mancenido are one (pair) of 4 artists in the show.
A term first encountered in Ptolemy's "Geographia", and more recently rehabilitated by German geographer Ferdinand von Richthofen, chorography's purview has always been the provision of a systematic, detailed description and analysis of a region – pushing against the rigid boundaries of geography by seeking to record more than mere topography.
In her book "Tooth for an Eye", Deborah Luster expands upon this concept, eloquently defining chorography as "a form of geography that describes the inherent attributes of a place. These attributes may be physical, sociological, conceptual, metaphysical or sensory".
Heavily influenced by geography throughout its brief history, the shaping of America's socio-political landscape has developed distinct cultural fault lines – ranging from the North-South ideological divide, to the "rugged individualism" credo of the West – that continue to influence social attitudes throughout each region.
And it is along these fault lines, at the crossroads of geography and human experience that our photographers' subjects lie, each inhabiting their own liminal state: between the physical and digital realms; between land and sea; between racial divisions; between loads. For it "is in these cracks, in the interstices of social structure, that [we] are most aware of [ourselves]" (La Shure, 2005).
Providing a visual exploration of the shifting social landscape in America – at a time of heightened economic uncertainty and social alienation – the exhibition "Chorography: In Search of the New American Landscape" features photographs by Joni Sternbach, Nate Larson & Marni Shindelman, Matt Eich, and
Tribble & Mancenido
.
Chorography
: In Search of the New American Landscape
Athens Photo Festival
Athens, Greece
31OCT – 25NOV
OJODEPEZ

ISSUE 26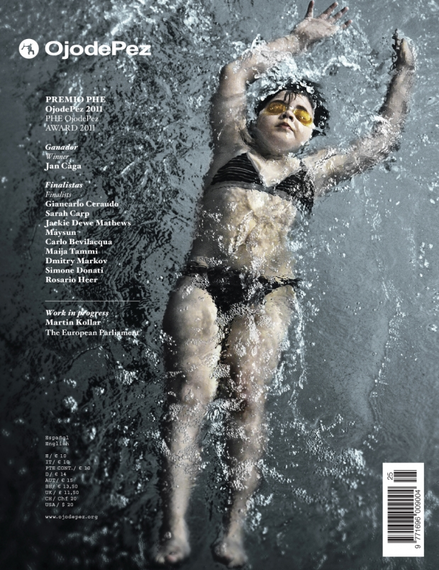 The current issue of
OjodePez
features a portfolio of work by
Tribble & Mancenido
.
CPW

BENEFIT AUCTION

CPW's Benefit Auction
is this Sunday, and the artists
Tribble & Mancenido
are happy to have donated a piece from
Hurry Up & Wait to such a wonderful organization dedicated to photography.

Center for Photography at Woodstock
Sunday, 9OCT




CPW

BENEFIT AUCTION PREVIEW

at the

DUMBO ARTS FESTIVAL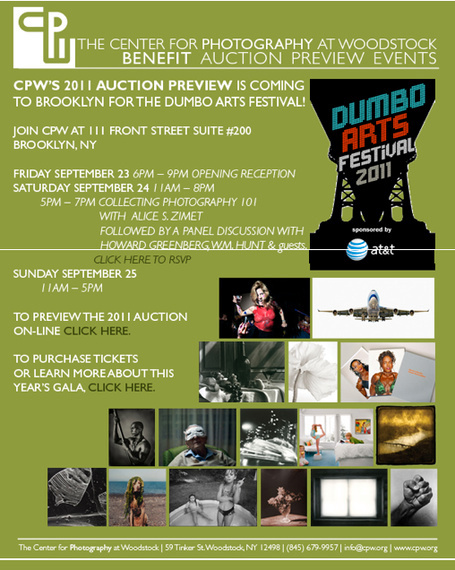 If you're in and around Brooklyn this wknd, check out the Dumbo Arts Festival where you can also see

CPW

's Benefit Auction Preview featuring great, great work from many artists, some of whom include Stephen Shore, Robert Mapplethorpe, Deana Lawson, Jen Davis, Justine Reyes, Erica Allen, Mary Ellen Mark, Michal Chelbin, Eikoe Hosoe…. and a print from Tribble & Mancenido.

CPW Benefit Auction Preview
Dumbo Arts Festival
111 Front Street #200
Brooklyn, NY

Friday, 23SEPT 6-9pm
Saturday, 24SEPT 11am-8pm
Sunday, 25SEPT 11am-5pm



THE

GALLERY AT EPONYMY






Tribble & Mancenido currently have work up at The Gallery at Eponymy, curated by Amani Olu, for their 2011 Fall/Winter exhibition.



BLACK

AMERICANS

: CODE Issue 19

OUT NOW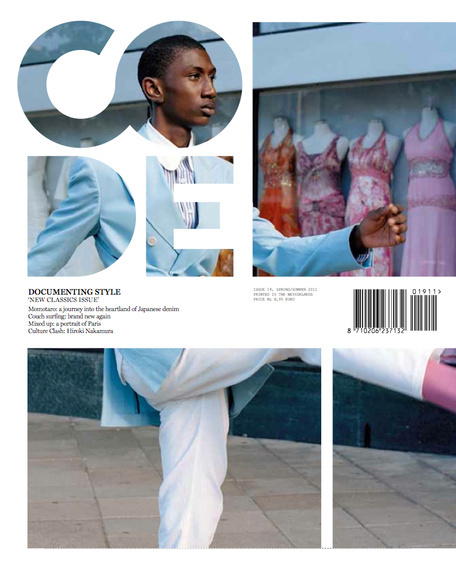 Tribble & Mancenido collaborated with

CODE

Magazine on the Black Americans story. In the age of Obama, they made portraits of influencers of today and tomorrow – Mickalene Thomas, LaToya Ruby Frazier, Hank Willis Thomas, Naomi Beckwith, Amani Olu and more.



HARLEM

POSTCARDS

at

THE STUDIO MUSEUM

of

HARLEM



Tribble & Mancenido have been commissioned by The Studio Museum of Harlem for their Harlem Postcards Summer 2011 project.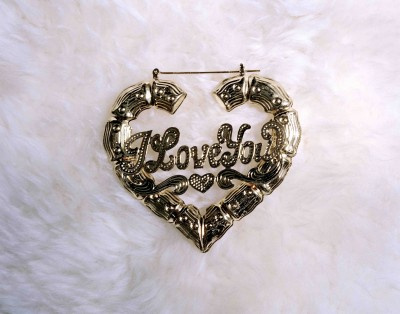 I Love You, Harlem 2011

Throughout the twentieth century, Harlem has been regarded as a beacon of African-American history and culture. Sites such as the Apollo Theater, Abyssinian Baptist Church, and Malcolm X Corner at 125th Street and Seventh Avenue serve as popular postcard images that represent significant places and moments in this community. Today, Harlem continues to evolve as a center of history and culture. Everyday, changes are witnessed by its residents and experienced by tourists and visitors from all over the world. Harlem Postcards, an ongoing project, invites contemporary artists of diverse backgrounds to reflect on Harlem as a site of cultural activity, political vitality, visual stimuli, artistic contemplation and creative production. Representing intimate and dynamic perspectives of Harlem, the images reflect each artist's oeuvre with an idiosyncratic snapshot taken in, or representing, this historic locale. Each photograph has been reproduced as a limited-edition postcard available free to visitors. (via)

The Studio Museum of Harlem
Harlem Postcards – Summer 2011
14JUL-23OCT



PHOTOWORKS

SHOWCASE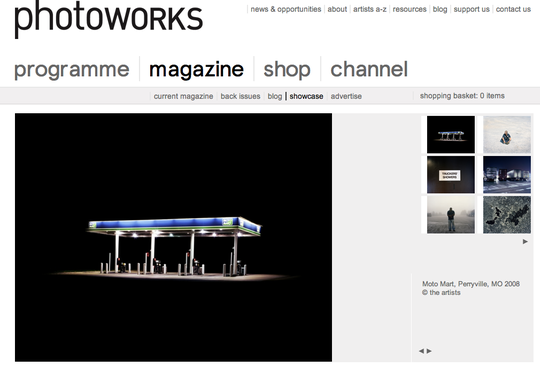 Tribble & Mancenido's work is currently featured on Photoworks' new site.

Photoworks is the UK's leading agency for photography. We produce commissions, exhibitions and events, publish books and influential magazine, Photoworks. Collaborating with the a broad range of artists and organisations, engaging the widest possible audiences, Photoworks encourages debate and inspires new thinking about photography. (via)



AMERICA :

NOW AND HERE

- ARTIST

CORPS FEATURE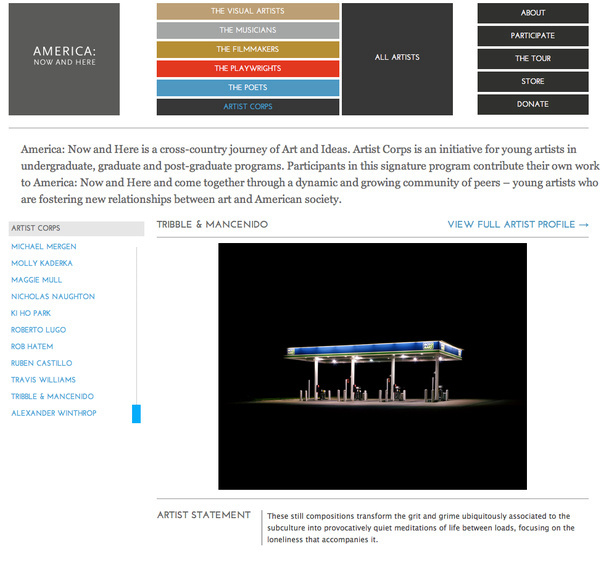 Tribble & Mancenido are featured as one of the Artist Corps for America: Now and Here.

America: Now and Here is a cross-country journey of art and ideas. Through art created by 150 of this country's most celebrated artists – visual artists, musicians, playwrights, poets, and filmmakers – Americans are invited to come together for timely dialogues about America, now and here. (via)

Artist Corps is an initiative for young artists in undergraduate, graduate and post-graduate programs. Participants in this signature program contribute their own work to America: Now and Here and come together through a dynamic and growing community of peers – young artists who are fostering new relationships between art and American society. (via)



BLOOMBERG

BUSINESSWEEK

: THE

NEW HIGHWAY ROBBERY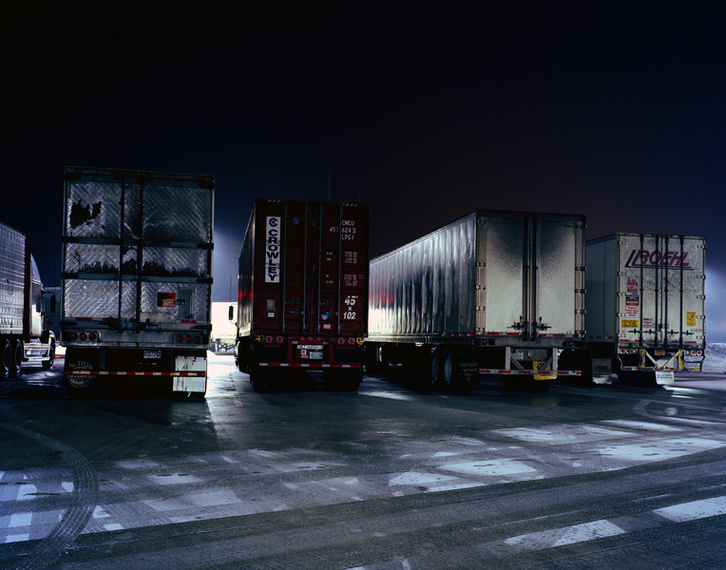 Images from Tribble & Mancenido's Hurry Up & Wait series were published in last week's Bloomberg Businessweek alongside Daniel Grushkin's story on cargo theft in the US. Pick up a copy and read the article here.



PDN

PHOTO ANNUAL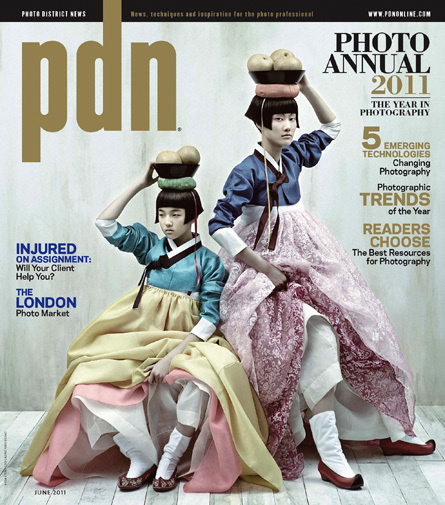 Tribble & Mancenido's work is featured in Photo District News' Photo Annual 2011.



REMA

HORT MANN FOUNDATION

- BUY

WHAT YOU LOVE

at

MARIANNE BOESKY GALLERY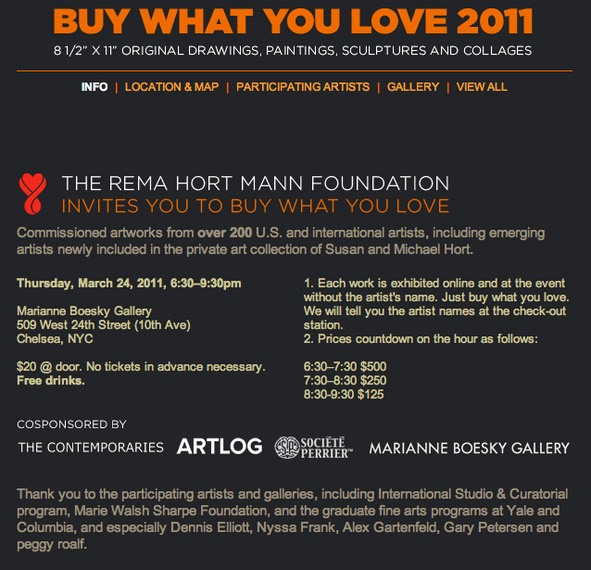 The artists have a commissioned piece for auction at The Rema Hort Mann Foundation's Benefit Auction – Buy What You Love.

Marianne Boesky Gallery
509 West 24th Street
Thursday, 24MARCH
6.30-9.30pm



MAGENTA'S

FLASH FORWARD FESTIVAL

in

BOSTON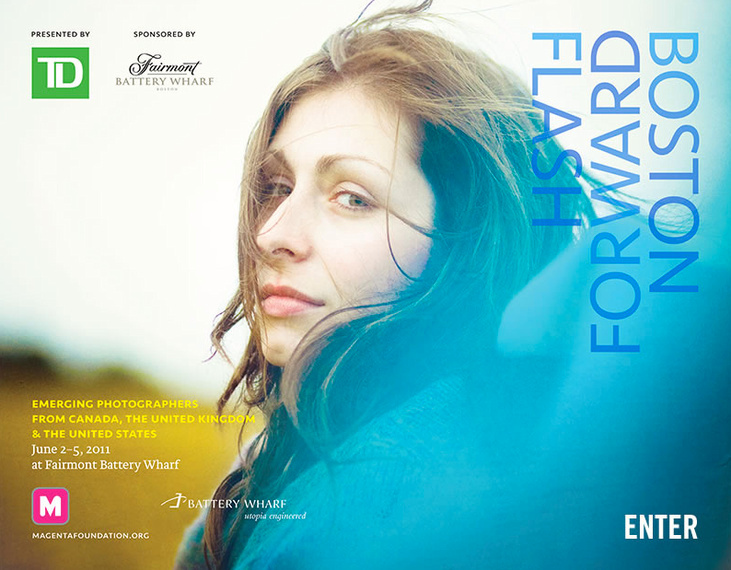 Flash Forward Festival Boston
Emerging Photographers from Canada, the United Kingdom & the United States
2-12 June – Fairmont Battery Wharf, Boston, MA

Work from Tribble & Mancenido's Hurry Up & Wait series will be on view at the festival in the Flash Forward Group Show.



ARTIST

TALK

at

SCGSAH


The artists will be giving a lecture at the South Carolina Governor's School for the Arts and Humanities on Wednesday, 26JAN.



ARTIST

TALK

at

SASHA WOLF GALLERY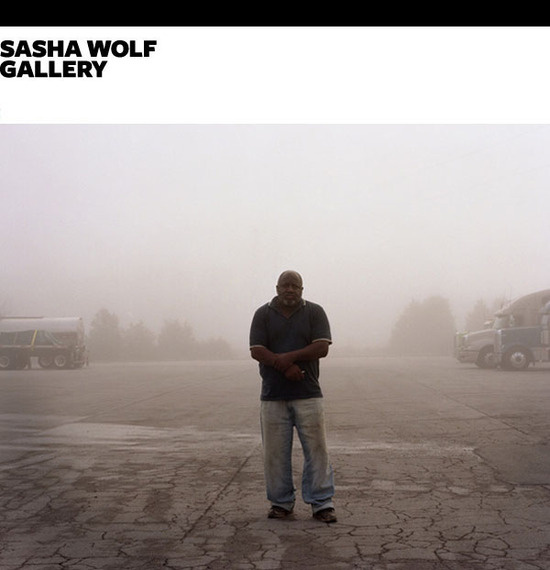 SATURDAY

, OCTOBER 16, 2010, 5:00 PM

Please join the artists in conversation with Sasha Wolf.



BRITISH

JOURNAL

of

PHOTOGRAPHY

- GONE

TRUCKIN

' Interview with

SIMON BAINBRIDGE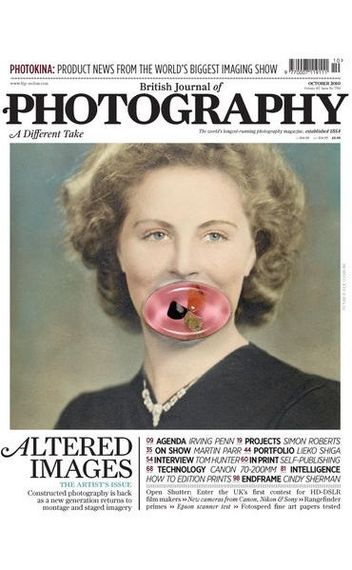 Pick up the October Issue of The British Journal of Photography to read Tribble & Mancenido's latest interview, Gone Truckin' with Simon Bainbridge

Also available online.



NPR –

THE PICTURE SHOW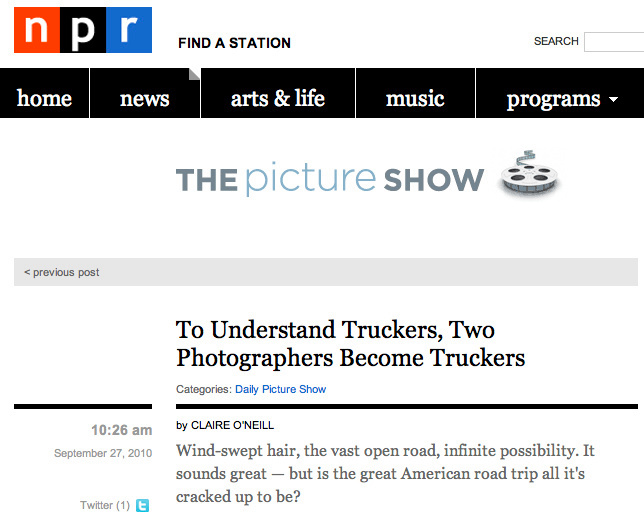 link
INTERVIEW on

THE MORNING NEWS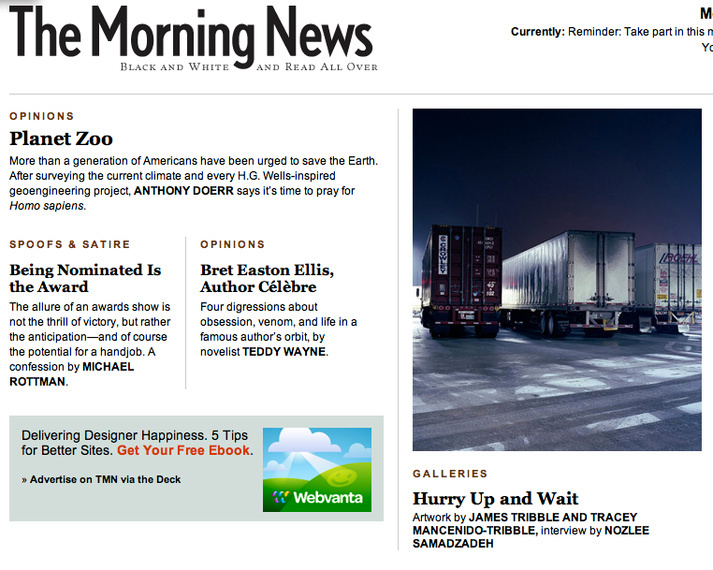 link
HU&W on

FOTO8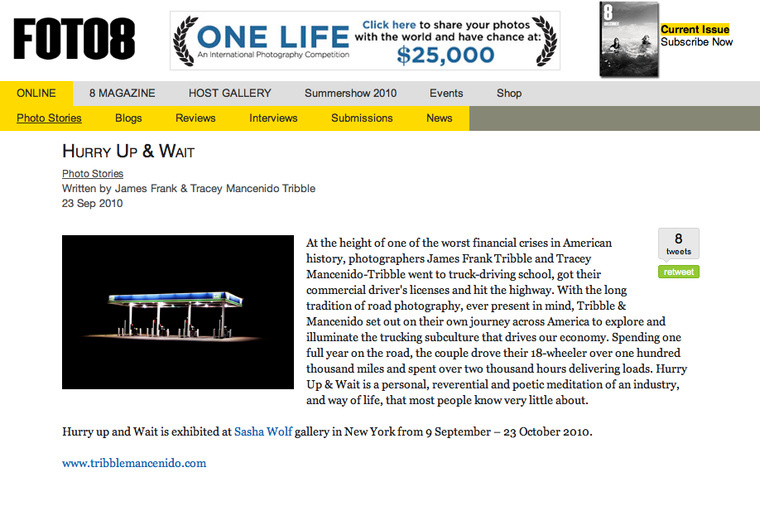 link
HU&W on

COOL HUNTING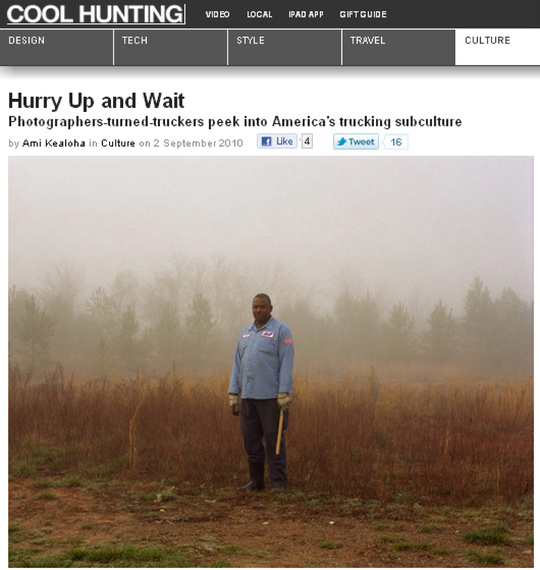 Check out the HU&W feature on Cool Hunting!



DAYLIGHT

PODCAST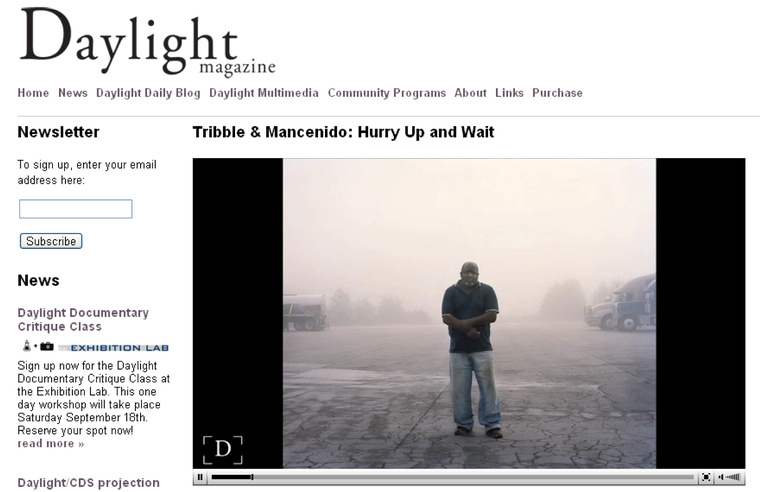 Have a look at Daylight Magazine's Podcast featuring Tribble & Mancenido's Hurry Up & Wait series here.



HURRY UP &

WAIT

at

SASHA WOLF GALLERY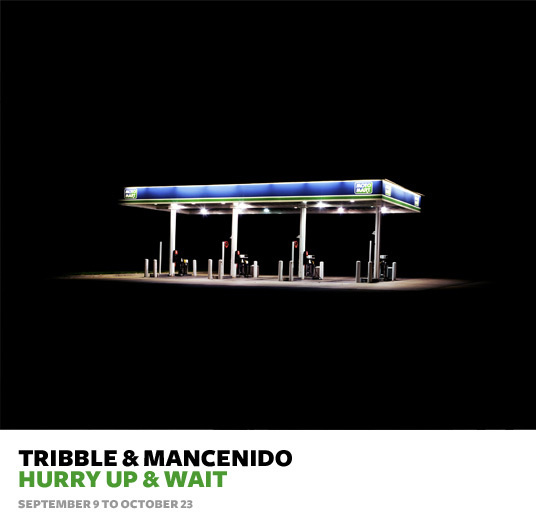 Come join the artists for their opening exhibition of Hurry Up & Wait at Sasha Wolf Gallery

Opening Reception : Thursday, September 9, 6-8 pm

Sasha Wolf Gallery
548 West 28th Street
New York,

NY 10001





SUMMER

STAGED REVIEW

in

THE NEW YORKER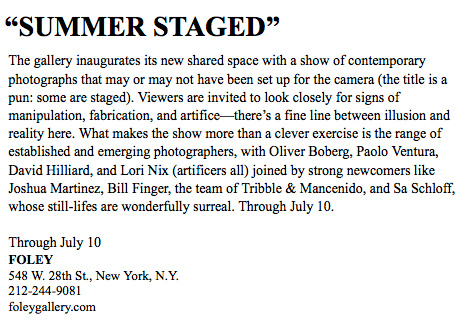 SUMMER

STAGED

at

FOLEY GALLERY


S

U M M E R S T A G E D


Michael Foley Gallery
10JUN-10JUL 2010
Opening Reception : Thursday 10June, 6-8pm
548 W 28th Street, 2nd Floor

Artists include:


THOMAS ALLEN

- RICHARD

BARNES

- OLIVER

BOBERG

- FLORIAN BÖHM –

WILLIAM FINGER

- THE

FISHES

- ALLEN

FRAME

- GAIL

ALBERT HALABAN

- DAVID

HILLIARD

- NICOLAI

HOWALT

- PHIL

JUNG

- MYOUNG

HO LEE

-

MARIA INES MANCHEGO

- JOSHUA

MARTINEZ

- MARTINA

MULLANEY

- DAVID

NADEL

- LORI

NIX

- ALEXANDRE

ORION

- STUART O'SULLIVAN –

RACHEL PAPO

- MELISSA

ANN PINNEY

- WILLIAM

RUGEN

- MICHAEL

ROBBINS

- SA

SCHLOFF

- MASATO

SETO

- STEVEN B.

SMITH

- SAGE

SOHIER

- AMY

STEIN

- CHARLES

TRAUB

- TRIBBLE &

MANCENIDO

–

LARS TUNBJ

ÖRK –

PAULO VENTURA

- BAHAR

YURUKOGLU

- RENHUI

ZHAO

- AND

OTHERS



...The line between truth and illusion in photography is one that has been frequently crossed by practitioners since the invention of the medium. Sometimes that line was crossed deliberately through the use of simple techniques like double exposing the film, adding clouds to a cloudless sky or adding color before that was naturally possible in the medium. The boundary crossing today can be seen as less pragmatic and more concerned with playing with the perception of the real and unreal put forth by the individual intention of the artist.

Summer Staged poses challenges to our perception in examining the line between documentation and creation, what is "real" (an impromptu observation) vs. what is "fake" (a staged moment). The salon style exhibition will further blur and confuse these lines…which are which and does it really matter?

(from the press release)



MAGENTA

FLASH FORWARD 2010



Tribble & Mancenido are one of the winners for Magenta Foundation's Flash Forward Emerging Photographers 2010!

Have a look at the formidable list of photographers from the US, UK and Canada here.



LIFE

AT THE WAYPOINTS

of

AMERICA

'S

TRUCKERS



Tribble & Mancenido were recently featured on The Black Snapper, have a look here

_Tribble and Mancenido's ongoing project shows the American landscape from the unique perspective of its trucking culture. What we are presented with is not so much a picture of America but a semblance of the subculture itself- the truckers, truck stops, gas stations and other liminal areas that these professional transients traffic. In a country of ubiquity it has been strikingly difficult to connect a face to the labor of production and distribution. This young couple has endeavored to show us this from the inside while they drive a tractor-trailer for a year, highlighting the quotidian minutiae of life at the waypoints of America's truckers.Curator Statement by Michael Itkoff
GRAPHIC

INTERSECTIONS

v. 02
The Exposure Project
announced it's next batch of photogrpahers who will be included in Graphic Intersections v. 02. Have a look at the formidable list, the artists are very excited to be part of such a collaboration. If you haven't already viewed v. 01, have a look
here
.
Lucas Blalock
Leah Tepper Byrne
Christopher Colville
Maureen Drennan
Lauren Edwards
Amy Elkins
Mike Fleming
Sarah Girner
Maury Gortemiller
Peter Happel Christian
Patrick Hogan
John Houck
Ina Jang
Phil Jung
Yijun Liao
Johan Rosenmunthe
Tina Schula
Kate Steciw
Tribble & Mancenido
:)
Nathaniel Ward
2010

PRINT AUCTION

at the

HOUSTON CENTER

for

PHOTOGRAPHY

T&M
currently have work on view and up for auction at the
Houston Center for Photography
2010 Print Auction
Houston Center for Photography
22JAN-23FEB
auction: 25FEB
Moto Mart, Perryville,

MO 2008
20×24
Archival Pigment Print
Edition 1/5
SASHA

WOLF GALLERY REPRESENTATION

T&M
are thrilled to announce that they will be represented by Sahsa Wolf of
Sasha Wolf Gallery
in Tribeca, New York. The gallery specializes in contemporary photography, specifically documentary and post-documentary based work.
SASHA

WOLF GALLERY
10 Leonard Street
Tribeca New York,
NY 10013
212.925.0025
EMERGING

ARTISTS

'

AUCTION

T&M
are excited to offer a print from our HU&W series with
Daniel Cooney Fine Art
on
iGavel
.
Porky's Truckers' Store, Dillon,

SC 2009
Edition 1/5
Have a look, the auction features wonderful emerging artists which you can view
here
.
SILVER

EYE CENTER

for

PHOTOGRAPHY 2009 FELLOWSHIP

T&M
received Honorable Mention for the 2009 Silver Eye Fellowship.
Here is a list of the winner and fellow stellar Honorable Mentions:
Fellow: Katrina d'Autremont
Honorable Mentions:
Shen Wei
Sarah Balch
Bradley Peters
Maureen Drennan
Shane Lavalette
Jason Reblando
James Tribble & Tracey Mancenido
:)
Daniel Traub
Janet L. Pritchard
Susan Worsham
K&K

GALLERY

: GRAND

OPENING GROUP SHOW

T&M
are pleased to show work from our new series
Hurry Up & Wait
in K&K Gallery's Grand Opening Group Show
K&K
109 Broadway
Brooklyn,
NY 11211
Opening Reception:
Friday, 20NOV
7-10pm
Come say hello, support and see one of their images from their long haul!
INTERVIEW

ON ARTLOG
Have a read about
T&M's
lives as truckers and their series
Hurry Up & Wait
in a recent interview with writer Justine Chausson
here
.